The app Gentle Wakeup can support you in falling asleep faster, sleeping through the night and in waking up more refreshed. For a better wake up the app turns your device into a professional wake up light. Our cardiac rhythm is influenced the most by daylight. The app turns on the display of your device 20 minutes before your desired wake up time and increases the brightness slowly. Our eyes can sense that light even when they are closed and our body starts to prepare for wake up. You transit from any deep sleep phase to a light phase. On wake up time a natural or instrumental sound will start to rise slowly in volume. If you hear the gentle sound you know that it is time to open your eyes and get up. Many people experience the first time that they feel already awake at this point. Please note that the app is not a medical product and that it only uses natural methods to support you.
In case you do not have the app yet you can download it from here:

Gentle Wakeup is already used by over 300,000 people to improve their sleep & wakeup. Whether you feel dizzy when you wake up, have general difficulties standing up or simply want to wake up in a more natural way, the app can support you with this.
How do most people feel when they wake up?
According to studies about how people feel when they wake up in the morning the answer from more than 50% of the people was dreadful! Over 25% even feel anxious when the alarm goes off and over 60 % hit the snooze button at least once or set more than one alarm.
What can be the reason if I do not wake up refreshed?
If you do not feel refreshed when waking up then there can be one or more reasons for this. Some examples:
You sleep not enough
Your sleeping quality is low
Your alarm clock goes off while you are in a deep sleep phase
You have a sleep disorder caused by stress, jet lag, depression, migraine, headache, motivation, tinnitus, insomnia, burn-out, autism, PTSD, anxiety disorder, ADHD, mental disorder
If you are having difficulties standing up then you should consult a doctor to clarify the exact reasons.
How do I use the app "Gentle Wakeup" for waking up more refreshed?
Here are the 3 steps to follow:
Step 1: Prepare your room
When it is dark in the evening go into your bedroom and turn out the light. Take a look at your window. Is there any light from street lamps or other light sources reaching your room? Make sure your curtain can prevent this light reaching your room. Our cardiac rhythm is mostly influenced by light and humans can not sleep well if there is too much light during the night.
Now check for light sources in your room. No light source from any electronic devices should be so intense that they light up the room even if it is just a little light. Switch off unnecessary small light sources or paste them over.
Are there any unsolved problems in your head? Thinks you need to remember? Write all unsolved problems on a ToDo list to get them out of the head.
Put your tablet or smartphone with the app "Gentle Wakeup" on a night stand beside your bed. The device should be pointed into the direction of your head in the bed. Some covers can be bend this way that the device is lying on the edge. You can also buy a holder for your device. Best is to buy a holder which can also charge your device over night so that you are fully charged in the morning.
Buy 4 in 1 USB Hub Charging Station and Holder from eBay.com
Step 2: Set an an alarm for the next day
Start the app and tap on the sun to display the icons available. Tap on the gear icon for the app settings. Tap on the plus button to add a new alarm. Set the desired wake up time and go back to the main screen. The alarm time will show up below the current time.
Step 3: Wake up in the most natural way
The screen of your device will turn on with a black screen 20 minutes before your desired wake up time. Until wake up time the screen will increase in brightness showing a true sunrise from red to yellow. At wake up time twittering birds will rise slowly in volume.

A simple tap on the screen will put the alarm into a soft snooze mode. In this mode the light gets dimmed and the sound will continue playing at a low volume. Tap again if you want a full snooze where the display will turn off automatically (depending on your Android settings) and the sound is muted. After 5 minutes the light and sound start to rise slowly again.
Turn off the alarm by moving the slider to the right. If the screen is too bright for your eyes then you should tap once on the screen to go into soft snooze and then move the slider.
How can I adjust the wake up for my personal needs?
There are several configuration possibilities for an alarm. You can choose from over 50 different natural & instrumental sounds. Enjoy natural sounds like streams, fountains, waterfalls or a jungle. Wake up to animal sounds like birds, seagulls or a rooster.  Or select inspiring instrumental music played with a violin, piano or guitar.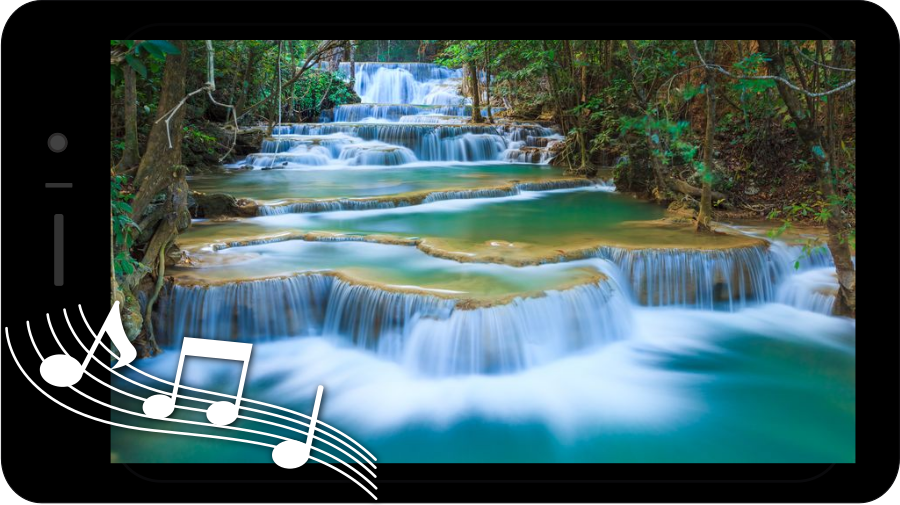 You can set and preview the final sound volume you want to assure you are waking up. You can also change the sound when it has reached the final volume. For example you start with an instrumental sound but after 5 minutes you want a more intense sound like the seagull.
If you want to start the sound earlier or later then you can adjust the minutes it should start before wake up and also how many minutes it takes until the final volume is reached. You can do the same for the brightness. Set a final brightness value, starting and rising time.
If you want to snooze then you should set your preferred length of the snooze and also a maximum number of minutes in which snooze is allowed. This prevents you from oversleeping by hitting snooze too often.
If you prefer to not see the time but only the sun to have an even more natural way of wake up then you can hide the time information.
You can also choose whether the app should keep on a soft light after you turn off the alarm. If your room is dark in the morning and the app is the only light source then you may want to have it turned on.
---
Continue reading: Fall asleep up to 3x faster by slowing down your breath
See a preview of all Articles here: Articles